Well, with the school holidays finally at a close, I thought I'd share some of the fun we had with a Sharpie product I found at my local Big W store earlier this month.
For Book Week this year the kids were asked to come as someone they thought of as a "Champion. I have to tell you, there were a LOT of Olympians! However, my son decided to go as Steve Backshall, a wildlife presenter on the UK program
Deadly 60
. We dressed him in camoflauge pants and a grey shirt and he looked just like ... some kid wearing camouflage pants and a grey shirt! BIG COSTUME FAIL!
So I went looking for fabric paint so I could whip up a
Deadly 60
logo for the shirt.
I was in a hurry, it had to be done overnight, and of course I couldn't find fabric paint unless I went to a specialist craft store (I was in a shopping centre). So when I found a pack of fabric markers by Sharpie, I had nothing to lose and thought I'd give them a go.
I ended up just using the black marker since I had limited time. For those who've never seen the show, this is what the actual logo looks like:
And here is what his shirt looked like when I'd finished with it (remember: this was a 10-minute job, so don't have high expectations):
And from the back:
It was by no means the most stellar costume but he was happy, and that made me happy. Unfortunately, a lot of people thought he was Steve Irwin (the Croc Hunter), and Will didn't know who they were talking about (can you believe it's been 5 years since his death? So sad). In fact, it was only when I explained that Steve was Bindi Irwin's dad that he had some idea what they were on about!
Anyway, I thought we could use the Sharpies for a school holiday project to keep him busy for a few hours. I just bought a cheap T-shirt from Best & Less (quite good quality too for $4) and found some cardboard to place inside the shirt to keep from staining the back.
The Stained By Sharpie pens look just like any markers, and were quite simple to use, despite T-shirt material being quite stretchy and `moving' under the pen a lot when used.
We pegged the cardboard in place and this helped also to stabilise the shirt.
And Will went to work! He is currently obsessed with an iPad game called Dragon Story, so that was his inspiration. He asked me to write the game title so he didn't `mess it up'. Awww, I would have preferred him to write it in his cute kiddy handwriting!
Halfway through, there was a drama about the dragons not being perfect. Will is quite particular about everything he does, and I had to coax him not to give up just because he didn't like some if his drawings. We quickly learnt to draw in strokes, rather than moving the pen continuously across the fabric. This technique created a much better result.
As a compromise, after he did his first three dragons (in the middle), I outlined some bigger ones for the bottom under his instructions, which he then coloured.
Here is the final result:
Good thing we used that cardboard underneath!
The verdict?
A good product, and after the first wash, the colours remained vibrant. I'm not sure how well they will hold up to multiple washes, but hopefully I can post an update in a few weeks. There are some obvious colours, such as blue, that aren't in the pack, which was a bit of an issue for this little boy! But overall, they worked well, and the price tag of $9.99 for the pack wasn't too bad.
One tip: The packaging recommends storing the markers horizontally so they won't dry out, and of course this makes a lot of sense.
One final look:
Linking up to the
Sunday Showcase Party
at
Under The Table and Dreaming
and
I Heart Nap Time's
Sundae Scoop
.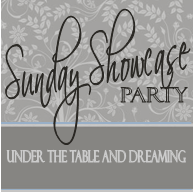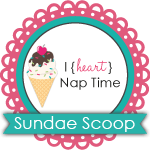 Thanks for stopping by!